Blog
CHUMPOWER PET Blow Molding Machine - Phoenix Series
By CHUMPOWER 2017/04/24
CHUMPOWER Phoenix Series has reasonable price and high stability with low occupation of ground area, simple operation, and easy maintenance. Its universal heating design is suitable for many kinds of products such as mineral water, soda, seasoning, tea, juice, distilled water, alcohol drink, cooking oil, cleaning solution, and cosmetics...etc.
The mechanical structure design is powered by servo. The detection sensor on preform slide rail of preform set has been moved inside array machine for in-advance fettling to elevate stability. A new assistant preform reverse plate is added to increase the flexibility of bottle preform.
The revolution and rotation shall cooperate with BECKHOFF system so the capacity can be effectively lifted for peak 0.9s. The molding set and die block have vertical co-motion control. Cooperating with control by BECKHOFF system, the capacity can be indirectly lifted to 9,000BPH. Blowing set utilizes servo to replace convention air pressure to meet the market demand of high speed and high flexibility.
To increase the safety and durability of PET blow molding machine, the detecting method of detection sensor has been altered. The durability and stability have both been improved. Another detection sensor for mold closing is added to ensure the lever position is correct and overall safety level of machine is upgraded.
CHUMPOWER Phoenix Series - PET Stretch Blow Molding Machine
Suitable for manufacturing of few volumes in multiple shapes with an option to become all-electric platform.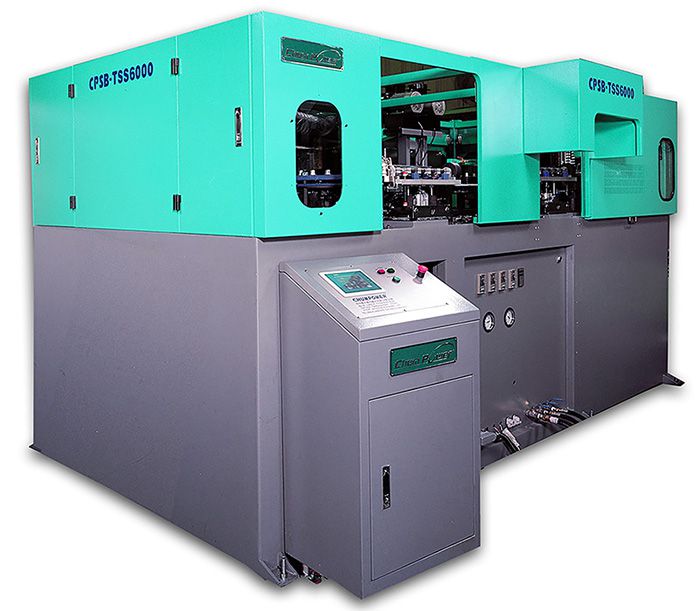 Tweet