Blog
Providing a Sustainable Injection Stretch Blow Molding Solution in rPET
By CHUMPOWER 2022/09/16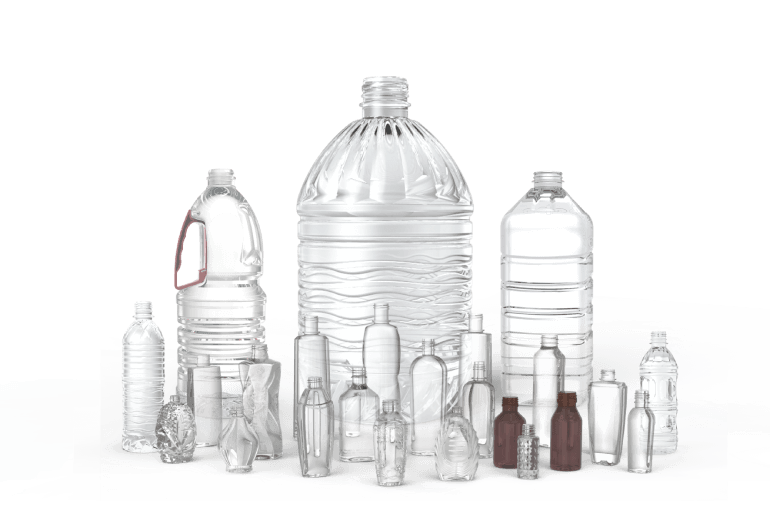 PET is widely used packaging material for water, beverage, and food industry. It is also highly recycled. Major brands in beverage industry such as Pepsi and Coca-Cola are also planning to increase the rPET percentage within their product packaging.
Many countries around the globe have launched environmental strategies such ESG, carbon neutrality, and net-zero emission within many industries. Taiwan is no exception. In March of 2022, Taiwanese government also declared the target to meet net-zero emission by 2050. Taiwan Environmental Protection Administration to be amended a new mandate on none-food rigid packaging to contain at least 25% rPET (ex: cosmetic, daily-use, and house-hold cleaner packaging).
The packaging industry has realized the impact of environmental sustainability has on the future manufacturing practice, and the advantage of energy saving when processing with rPET instead of virgin material, which translates to a competitive advantage in terms of creating the ESG sustainable value of low carbon production.
The leading brand of Taiwanese PET stretch blow molding machinery, CHUMPOWER will exhibit the new model of Single Stage Stretch Blow Molder SS10-rPET at 2022 TaipeiPLAS (Booth No.: K0302), providing a sustainable ISBM solution in rPET.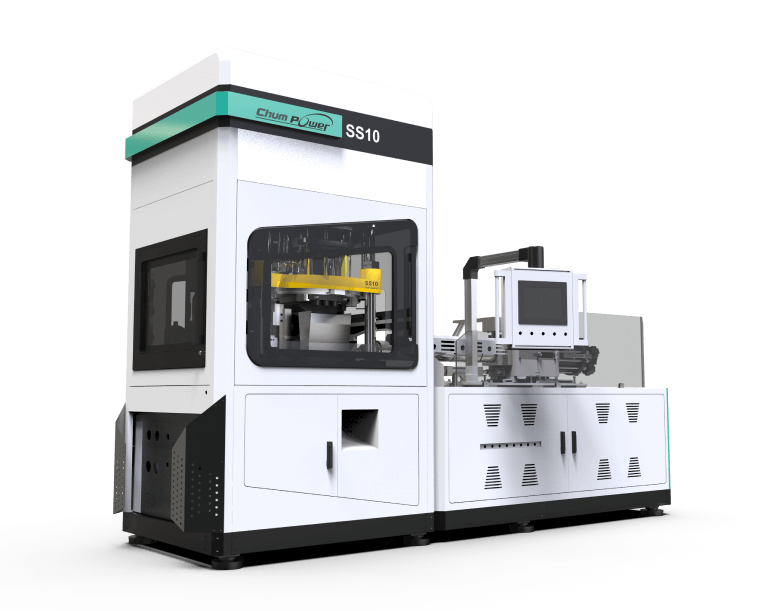 The SS10-rPET Series Stretch Blow Molding Machine has hybrid hydraulic system with optimized clamping mechanism to ensure energy efficiency. The plasticizing screw is specially designed featuring CHUMPOWER patented barrier screw with venting capability, which can effectively lower the energy required for drying. In comparing with the Two Stage Stretch Blow Molding Machine, Single Stage Stretch Blow Molding Machine adopts 4 stations design, where preforms are taken directly into the blowing section right after injection, therefore avoiding the reheating process.
It is a process that reduces energy waste which in turn lowering the CO2 emission. Also, most major components of the machine have been thoroughly optimized in the design process to ensure longevity of the components, making the machine more efficient and reliable. All these factors translate to higher running efficiency.
The non-contact feature of the preform throughout the entire bottle-making process yields a glossy scratch-free exterior of the final product. Therefore, the single stage stretch blow molding process is suitable for application which requires high bottle quality with low production run. SS10-rPET machine is therefore perfect for specialty bottle and daily-use application targeted for circular economy packaging need.
CHUMPOWER make all the molds in house to fulfill every customers' needs. Since every customer has different needs, therefore the ability to transfer 2D design into 3D model has become one of our core capabilities. Our mold department has temperature controlled machining center to ensure a stable machining environment during production.
All bottle molds of CHUMPOWER are produced using high quality aeronautical grade alloy, and are machined on high precision 5-axis CNC machine. CHUMPOWER produces high-precision mold with our machine to ensure maximum compatibility and to avoid production lost due to mismatch. From pre-sales planning, bottle design, stretch blow molding machine, turn-key solution to after-sales service, CHUMPOWER is capable of providing a complete solution for PET bottle packaging.
Welcome to visit CHUMPOWER at:
TaipeiPLAS 2022, Booth No.: K0302
K 2022, Booth No.: Hall 14 / B30
Source: PRM-Taiwan Blog
---
CHUMPOWER MACHINERY CORP. has over 20 years of experience in the expertise of PET blow molding machine manufacturing apart from providing the appropriate blow molding machine for oil bottles, we also provide the best expertise and consultant on the design of handle oil bottles from preform/mold design, blow molding equipment, Whole Plant Planning Solutions. If you have any questions or would you like to request a quote, contact us today.
Tweet